Enter Your Information to Find Today's Best Rates!
Benefits of a Reverse Mortgage
Access up to 55% of the equity in your home
ed to move or sell)

Reverse Mortgage for people over 55
A reverse mortgage is a type of loan secured against your home. It differs from a line of credit in that you don't have to make any monthly payments on a reverse mortgage. Interest accrues on the loan and is due when you decide to move or sell your home.
Eligibility and how much money you could receive depends on the following factors
Your age - you must be 55 or over
The value of your home (must be at least $150,000 to qualify)
The location of your home
The type of home - detached, condo, apartment, etc.
Your home equity (it's appraised value minus any mortgage or line of credit)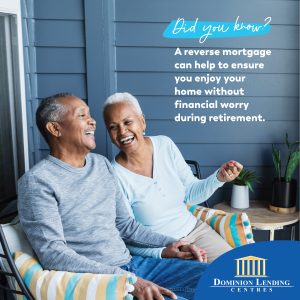 Lawrence Togeretz
2022-03-29
Had a great experience getting our first mortgage with Cameron, highly recommended!
So I don't really ever write reviews. However, Cameron is truly one of a kind. He worked so hard at getting me the best rate for my new mortgage. My wife and I faced some challenges because of COVID and Cameron worked so hard at getting us this mortgage. I can honestly say without any hesitation that he is truly amazing and very very knowledgeable. He truly cares about people and the ones he is helping especially. I would recommend Cameron 100% and would go on to say that if you used anyone else, you would probably not get the same dedication from someone else. All I can say is that Cameron was amazing and we owe everything to him and all he did for use. So thanks again Cameron for all you have done to get us to be able to get our amazing home.
If you want quick and professional service then look no further than Cameron at Dominion Lending.
This is the third time that my husband and I have relied upon Cameron Mackie for our mortgage needs. Cameron is outstanding. He is extremely diligent and has gone above and beyond to find us financing solutions that meet our needs. We have and will continue to recommend Cameron to our friends and family. Thanks Cameron for truly having our best interests in mind.
Cameron is a genius. I kid you not. He's a wiz with everything mortgage related. It wasn't an easy process to get a mortgage and of course some issue cropped up at every turn. While I was stressing in the corner questioning my life decisions, this guy wasn't fazed. At all. He just worked it out - every time. I came to depend on his skills and he made me feel comfortable and dare I say even excited by the end. And he did it. He got me a great mortgage. There is no amount of praise for Cameron that would be enough.
Fantastic experience, made it super easy for us, lots of guidance and assurance with no pressure. We got a way better deal than we ever thought we could get! Recommend to anyone!
I have known Cameron for many years where he first refinanced my primary residence. Since then, I have sought him to take care of all my mortgage needs. Recently, I trusted him to refinance my two rental properties; the service, care and consideration was outstanding! Cameron is quick to answer any question (no matter how trivial it is) and he took the time to walk me through all my options. Thank you for all your support Cameron!!
!Rogelio cordero
2020-09-29
I recommend Cameron Mackie is Professional Mortgage Broker he solved all my financial needs. Thank so much Cameron keep up the good work God Bless you and your Family
Cameron is excellent at what he does, couldn't be happier with his work. He was very patient with me through my long process in buying a home, always making himself available for me whenever I had questions. He helped me think about different strategies and options to make the most out of my home purchase. Throughout the process, his professionalism, responsiveness, quality and value out of every call, made me always come back. Talked to multiple mortgage brokers throughout my buying journey and Cameron was easily the best. Cameron was a true partner for me in this process and when I need a mortgage again, he'll be the first one I call. Highly recommend his services!