When we tie the knot with our soulmate, we assume it's going to be forever. Unfortunately, not all marriages have fairytale endings. Knowing the statistics, we felt it was important to help those going through this hardship. Generally in a separation, housing is the biggest problem when it comes to severing assets, so we launched a spousal buyout program to help keep you in the home you're currently in. This will help keep your family comforted and feeling secure during the transition of your separation.
Our spousal buyout program is a unique alternative that very few even know exists.
What is the "Spousal Buyout Program"
The spousal buyout program is a one-time opportunity. The program can simply help payout your spouse, as well as provide an opportunity to pay off other debts outside of the separation. Our spousal buyout program has been developed to help provide you with that fresh start you've been looking for.
With our lending partners and mortgage insurance providers working together with us. We can provide up to 95 percent of the value of your home. Our program is backed by all three of Canada's mortgage insurance providers, Canada Mortgage and Housing Corporation (CMHC), Sagen and Canada Guaranty.
Now, you can payout your ex-spouse and continue living in the home you and your family love.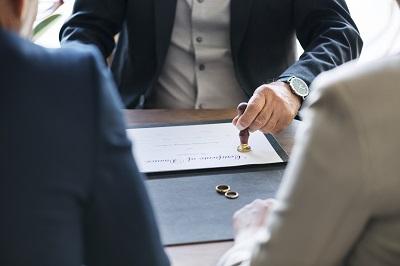 Even with a helpful loan-to-value ratio, some people still can't afford to take on the home on their own. The program also allows people to bring on a cosigner, often a new partner or family member.
So you want to buyout your spouse, so what's next?
If you would like to buy out your spouse we do require some documents in order to complete the mortgage approval. A list of documents that would be required for review are:
Signed separation agreement
Employment Letter
Most recent paystub
List of debts you wish to payout along with the spousal buyout
We will guide you through each step to help make this process as stress-free as possible.
At the end of the day, divorce is unfortunate. This program allows you to keep your home and your kids can stay where they've grown up.
If you do find yourself in a divorce and you're not sure what to do about your home, contact a mortgage broker before making any decisions. They can help you.