Welcome to the April issue of my monthly newsletter!
This month's edition looks at protecting your pre-approval and options for up or downsizing. Please let me know if you have any questions or feedback regarding anything outlined below.
Thanks again for your continued support and referrals!
Protecting your pre-approval
People mistakenly believe once they've been pre-approved or approved by a lender it's all done.
But what they don't realize a lender may pull their credit 30 days prior to close. They also don't realize lenders can request updated documents in that time. And, if some of the original information that got you the mortgage approval in the first place changes, and for the worse, you could lose your financing. Here's a short list of actions that could put your approval on pause:
Having additional credit reports pulled by another broker or lender
The lender will often pull your credit again right before financing. If the lender sees that other brokers or lenders have pulled your credit, the lender views this as credit seeking and it can put your funding in jeopardy.
Applying for additional credit elsewhere
The lender calculates your debt based on the amount of credit you have. If you are applying for new credit, the obvious assumption is that you are planning on using it. Don't get any new credit until the closing date is passed.
Closing out credit accounts
Credit is not a bad thing… unless you are having a hard time managing it. Old credit shows a long history of being able to handle credit. Lenders like that, so don't rush to cut up your credit cards just yet. If you can, make above your minimum monthly payments to get in a better standing with your current accounts.
Moving money around without a paper trail
When you settle with the bank on the contract of the mortgage, the lender will require bank statements showing your saved money. They look at the history along with the balance. If there are any unusual deposits, you will need to explain where the money came from. Be prepared to show a paper trail. If your downpayment comes from savings, keep in mind the bank will want 90 days bank statements to ensure the money is accounted for.
Increasing your debt
The lender always looks at your debt-to-income ratio. If you increase your debt, you can risk going over the maximum amount of debt compared to your income.
The biggest, and most common offence to this rule is buying a new car or obtaining a big box store credit card.
Don't be tempted! If you want to keep your current pre-approval amount, keep your ratio steady.
Moving up or down the property ladder
At some point, the place that we thought would be our forever home for one reason or another just isn't working. That's the time to consider moving up in size or potentially downsizing depending on where you are in life.
If you're feeling squeezed or have a little one on the way, your current digs may not be enough. If you want to upsize during your mortgage cycle, keep in mind you'll be breaking your mortgage and will have to go through the entire qualification process again.
That means you will need to re-qualify at the current rates offered by lenders and be subject to government changes and recent "stress test" rules. You'll also be breaking your mortgage which will come with a variety of penalties depending on the terms in your mortgage and the lender. You may be able to port the mortgage, essentially taking the existing mortgage and its terms and transferring it to another property, but not all mortgages are portable. You'll need to talk to a mortgage broker to find out if this is an option for you.
Moving on UP
If you're trying to move from a condo or apartment to a single-family home, it's all about the pros and cons. First, you have to decide if you can afford to make the move and buy something bigger. A larger purchase price comes with larger closing costs. Depending on the province in which you reside, you're Property Transfer Tax will be larger and you'll be paying realtor fees on the sale of the home you're leaving. Canadians typically pay between 2.5 and five per cent their home's selling price in realtor fees.
Don't forget the costs of owning a single family home. Unlike a strata, you are responsible for all the maintenance of your home. One rule of thumb is to consider saving one per cent of the purchase price of your home each year for maintenance. If your home cost $500,000, that would mean $5,000 a year in savings. The good news is you won't have to pay a monthly strata fee and you won't be kept up at night worrying about a special assessment for major repairs on the building.
Scaling it DOWN
There comes a time when owning a home becomes a little too much to handle. The cleaning, the yardwork and the maintenance can be a pain. And why keep extra bedrooms when they're just collecting dust? It may be time to downsize. If you're mortgage free, depending on where you live, you could actually be sitting on a gold mine. While you may be in for a windfall, there are costs to selling your existing home for something smaller and cheaper.
Realtor commission (between 2.5 and five per cent depending on where you live in the country and what you are able to negotiate). In Toronto for example, the standard realtor rate is 5%. So for a $1,000,000 home, you would need to pay the realtor $50,000.

Closing costs and legal fees – approximately 1.5 per cent of the purchase price

Miscellaneous costs – $1,000-plus (moving expenses, upgrading appliances and buying new furniture)

You also need to consider strata or condo fees and the potential for special assessments on the building and all the standard costs that come with buying a place, even if there's no mortgage.
Another more recent option to the real estate landscape is reverse mortgage. A reverse mortgage is a loan secured against the value of your home. It is exclusively for homeowners aged 55 years and older. It enables the homeowners to convert up to 55% of the home's value into tax-free cash. With a reverse mortgage, you maintain ownership of your home. You only have to repay the loan once you chose to move or sell.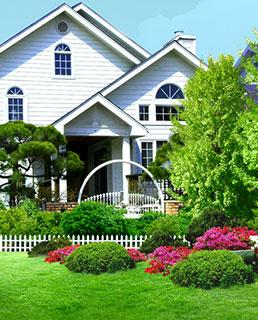 Homeowner Tips
Exterior Renovations:
If you're thinking of selling your home, or you simply want to spruce it up, exterior renovations can significantly increase its value and curb appeal. Aside from more expensive undertakings such as new roofing and siding, there are some projects you can take on yourself, such as creating attractive flower beds or purchasing a new front door. With each project completion, you will be happier with your home, and increase its appeal to buyers when it comes time to sell!
---
DID YOU KNOW…
There are eight preset dates per year on which the Bank of Canada makes decisions which affect variable rate and short term fixed rate mortgages. The last increase to the Prime rate by the Bank of Canada was in 2018. No increase is expected anytime soon.
Longer term, i.e. the five year term, fixed rates are influenced by the bond market, and this is arguably less predictable and more volatile.
The most recent Bank of Canada meeting was in March.