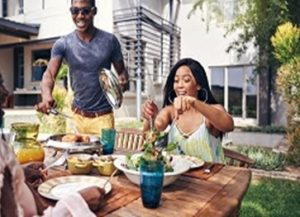 It's the season of outdoor parties and a summer BBQ is the perfect way to enjoy time with friends and family! For some tips on how to make this year's get-together your best one yet, check out my list below:
Set the Mood: String up fairy lights, plug in a radio with some of your favourite tunes in the background, put out a lawn rug, and throw a fresh tablecloth over your outdoor dining area. A few quick items can really spruce up the yard and make it feel ready for guests!
Don't Forget to Play: If you're hosting an adult-only BBQ, setting up a table for a card game or getting out your cornhole boards can be a great way to pass the time and get in some laughs. If you have children in attendance, consider setting up a lemonade stand or fill some water balloons for an extra splash!
Choose Your Mains: It can be easy to get carried away grilling steaks, fish, chicken, hot dogs, burgers – you name it! For a more successful party, choose two options. Maybe you go with hot dogs and veggie burgers, or perhaps fish and chicken. Choose items that cook well on the BBQ together and suit the tone of your get-together.
Have Drinks on Hand: Set up a table with pitchers of fun summer drink concoctions (alcohol optional!) or consider filling a kiddie pool or wheelbarrow with ice to keep those beers chilled all afternoon.
Put Out Snacks: This may seem like a no-brainer, but having a table filled with fun 'grazing' snacks can help stave off any stress about perfectly grilling your meals! Try a veggie and dip tray, fruit shish kabobs, or a charcuterie board of cured meats and cheeses.
---
MORE RELATED BLOG POSTS
---