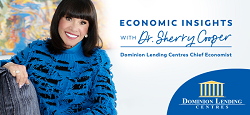 Economic Insights and Real Estate Market Prospects for 2023 and beyond.
What a year this has been. In the face of red-hot inflation, the Bank of Canada raised its policy rate by a whopping 400 basis points to 4.25%. First to cool was the housing market, where buyers moved to the sidelines and mortgage rates surged.
Home prices fell, especially in Toronto and Vancouver. The economy appears to have slowed, and inflation has fallen to 6.8%--down from 8.1% earlier this year. But core inflation is sticky, and wages are rising rapidly. The Bank of Canada is adamant it will beat inflation to the 2% target level, even if it causes a recession.
As we move into 2023, I expect at least one more rate hike—probably a mini one—and then a pause. But the Bank will not cut the policy rate next year. A mild recession will ensue, home prices will fall somewhat further, and by 2024 the economy will begin to recover, and buyers and sellers in the housing market will re-engage. Inflation won't go back below 2%, and interest rates will not return to pre-COVID levels.
The Canadian economy has never been so interest sensitive. Debt-servicing costs are at record levels. Many will feel the pinch when their mortgages renew in the coming years. The unsustainable housing froth of the pandemic years will not return. Still, the underlying value will be solid as the Canadian population snowballs owing to the rapid influx of immigrants.
---
More related readings you might like: